Can my insurance company reimburse my friend or relative using my ALE Coverage?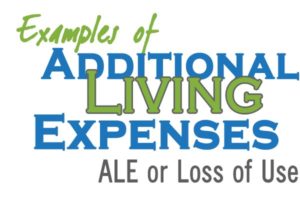 I had a survivor ask a question recently regarding staying with a relative and getting reimbursement via your Loss of Use aka Additional Living Expenses (ALE) coverage.
Let's say you have a covered loss and for the first week (or month etc), instead of staying in a hotel you stay with a friend or relative until you're able to find appropriate living arrangements. You can claim a reasonable charge for your stay there and reimburse your family member for their generosity. The key is REASONABLE. Only you know the cost of a hotel in your area and how it compares to the quarters in which you're staying, but if you still have no idea you can contact a local hotel and ask how much they charge. Don't forget to include meals paid for by your host.
The next question this survivor had was how to make this claim. My advice was to find a blank invoice online somewhere and use the form to claim a daily/weekly rate. They included a separate line item for meals provided during their stay.
Here is a list of things you might be able to also claim under ALE:
Hotel expenses: tips, dining out, parking.
"Moral" obligation to pay for housing with friends or relatives (according to AICPCU). Have your friend or relative write a rental receipt and allow them to be compensated for the inconvenience.
Additional driving mileage (see current IRS or AAA mileage rates).
Childcare expenses above normal expenses.
House cleaning service above normal expenses.
Cost to install and hookup fees for cable and utilities.
Cost to install phone and forward number to temporary addresses.
Cell phone, telephone, postage costs above normal expenses.
Utility bills to temporary power poles might be charged at a higher rate than normal residential rates. The difference between your old bill and the new bill.
Extra supplies related to living in an RV such as toilet chemicals and difference between the price of regular toilet paper and the special toilet paper you might need to use in an RV.
Long distance phone calls to insurance company.
Pet boarding.
Meals while in hotel or moving above normal expenses.
Laundry and dry cleaning above normal expenses.
Costs related to documentation of dwelling, personal property losses.
Files, paper, notebook and diary costs related to insurance claim. (These are not personal property replacements but directly related to additional expenses due to the loss.)
Expenses related to replacement of licenses, diplomas, certificates, passports.
Storage of replacement contents.
See also Chapter 7 of our free eBook A Survivor's Guide to Insurance: