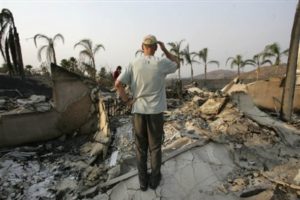 Following a total loss of your house following a fire, most people assume that the first thing you should do with the debris on your land is to remove it. However, if you do this before going through the process of documenting your loss, you could easily shortchange yourself. Documentation prepared by the insurance company might not be enough proof to demonstrate your full loss.
Before your debris is removed – and if you want to preserve your ability to achieve a full and fair settlement of your loss – you must do some quick but careful research to answer questions your insurance company will have regarding the size of your home, the quality of your house construction, and other personal property.
Before Your Land is Cleared You Must Measure, Photograph and Save
Measure
Measure the slab or the perimeter of each structure. It might even be helpful to have someone video while you're measuring, and then zoom in on the measurement so it is readable. You'd be amazed at how important documenting the size of your dwelling can become. Survivors can be shortchanged on the replacement cost as a result of inadequate measurements.
Focus on the height and thickness of the footings, stem walls, any slab and chimney.
Although you can also use satellite photos to locate your house on the property, you should also measure how far the house is from the property line or other permanent landmark (such as a telephone pole or a very old tree). For best results, measure the same spot on the house from two different landmarks.
Photograph
Take pictures of everything. A video camera might also be helpful. Many digital cameras and cell phones now record video, but the low quality might make it less useful.
Take as many photos as you can. You can never take too many.
Include a ruler, yardstick or tape measure to document dimensions in the photograph.
Save
Go to your lot with a rake and large container, breathing mask and gloves. If, for whatever reason, you are unable to do this, recruit friends or family to handle the task.
Carefully poke through the ash to recover and SAVE in the container any small remnants of tile, pieces of metal, copper piping, wood scraps – any tangible items to prove to your insurance company the quality of items and construction you had. You will be surprised how much is buried in the ash.
Keep the saved items in a safe place to show to your current and subsequent adjusters the quality of materials, workmanship and possessions you had. You want to be able to provide evidence that will support claims such as the kind of tile that was in place, the types of light fixtures you had, the type of wood used, or what the foundation was like.
More detail can be found in Chapter 2 of our free eBook "A Survivor's Guide to Insurance"